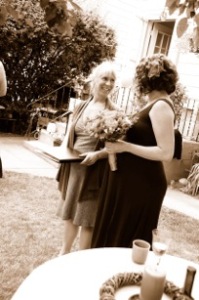 A Life Cycle Celebrant officiates weddings, funerals and ceremonies across the life cycle.
A Certified Life Cycle Celebrant is schooled in the art of ritual and ceremony design, as well as ceremonial writing and speaking. They can officiate ceremonies for any life event such as a mother blessing,
marriage, coming of age, retirement, dissolving of a marriage,
animal tributes or memorials just to name a few.
Celebrants fill a niche for people who may be spiritual but not affiliated with a religious institution, as well as those not wanting a civic ceremony. Celebrants can also serve people of different faith backgrounds and sexual orientation.
Celebrants recognize that one ceremony does not fit all. Every wedding ceremony has its own flavour and every life transition is unique. We take the time to consult with you and craft a ceremony that is personal and reflective of the event at hand.
The work of Celebrants is assisting people to understand the importance of marking life events with ritual and ceremony—acknowledging endings as well as beginnings, and the space in between.
Lisa Marie Walker is a certified Life-Cycle Celebrant.