Celebrant Services: Weddings Ceremonies & Life Ceremonies
---
WEDDINGS
A Celebrant wedding holds your love story at the heart of the ceremony. Preparing your ceremony can be an opportunity to slow down and reflect on what really brought you here, what you love about your relationship and why you are choosing this rite of passage together. Through meetings and a questionnaire we will discern the best way to express your love, include your friends and family and the use of poetry, music or ritual, in just the right way.
As a non-denominational Celebrant and Marriage Officiant, I am pleased to be able to craft a ceremony with exactly the words and intention that suits you. Secular, nature-based, spiritual, or interfaith; the words and rituals we choose will reflect who you are as a couple, and what your vision of the future might be. I respectfully welcome all backgrounds and beliefs.I am an LGTBQ ally and am happy to say Alberta law grants marriage to same sex couples.
CLICK HERE FOR PRICES AND DETAILS
---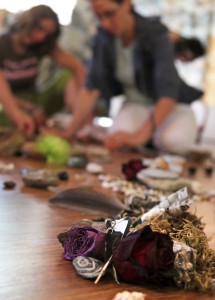 LIFE CEREMONIES
There are so many thresholds, rites of passage and major transitions in this journey called life. The ancients understood the power of marking these times with ceremony and ritual. This marked the separation from what was, through the transition phase, to the integration of the new circumstance or situation.
Thresholds such these are all important to mark in meaningful ways and can greatly assist us in the transition.
Coming of Age
Coming out as a gay person
Engagement
Mother Blessing
Separation/Divorce
Retirement
Losing your job
Moving out of your home
Moving into a retirement home
Post traumatic events
CLICK HERE FOR PRICES AND DETAILS
---
I had the privilege of working with a client in a ceremony with the intention of releasing a relationship, this is a statement shared with me:
"The process that you chose to share with me was so simple, yet profoundly effective in taking me to a place of loving release."
The power of ritual and ceremony is held in the physical action and intention we give it to transform us.
Please read this wonderful article on the link below.
Conscious elderhood,"Understanding life transitions and the importance of rites of passage".